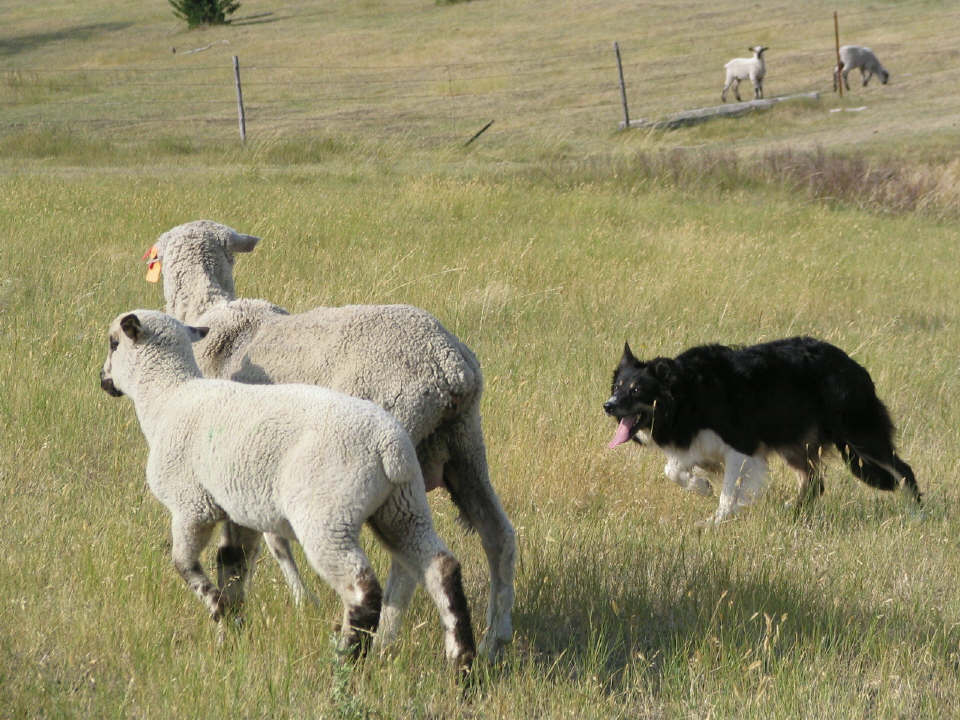 BORDER COLLIES


My Border Collies became an indispensable part of my livestock operation very quickly. I had a flock of about 60 ewes before I bought Lad. I was able to do everything I needed to do with some help from Luke but it was a lot of work. Once Lad came I was immediately aware of all the steps he saved me and how much easier everything was with his help. Just his presence made the sheep behave differently. Now I would not have livestock without a good Border Collie. The work is more enjoyable with their assistance.


I am continually amazed by Border Collies -

their natural instinct, the way they figure out a problem, how they read livestock so well and their never ending desire to work and please us.

Imp. LAD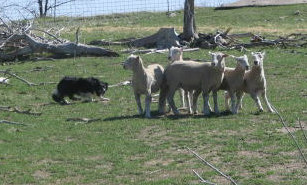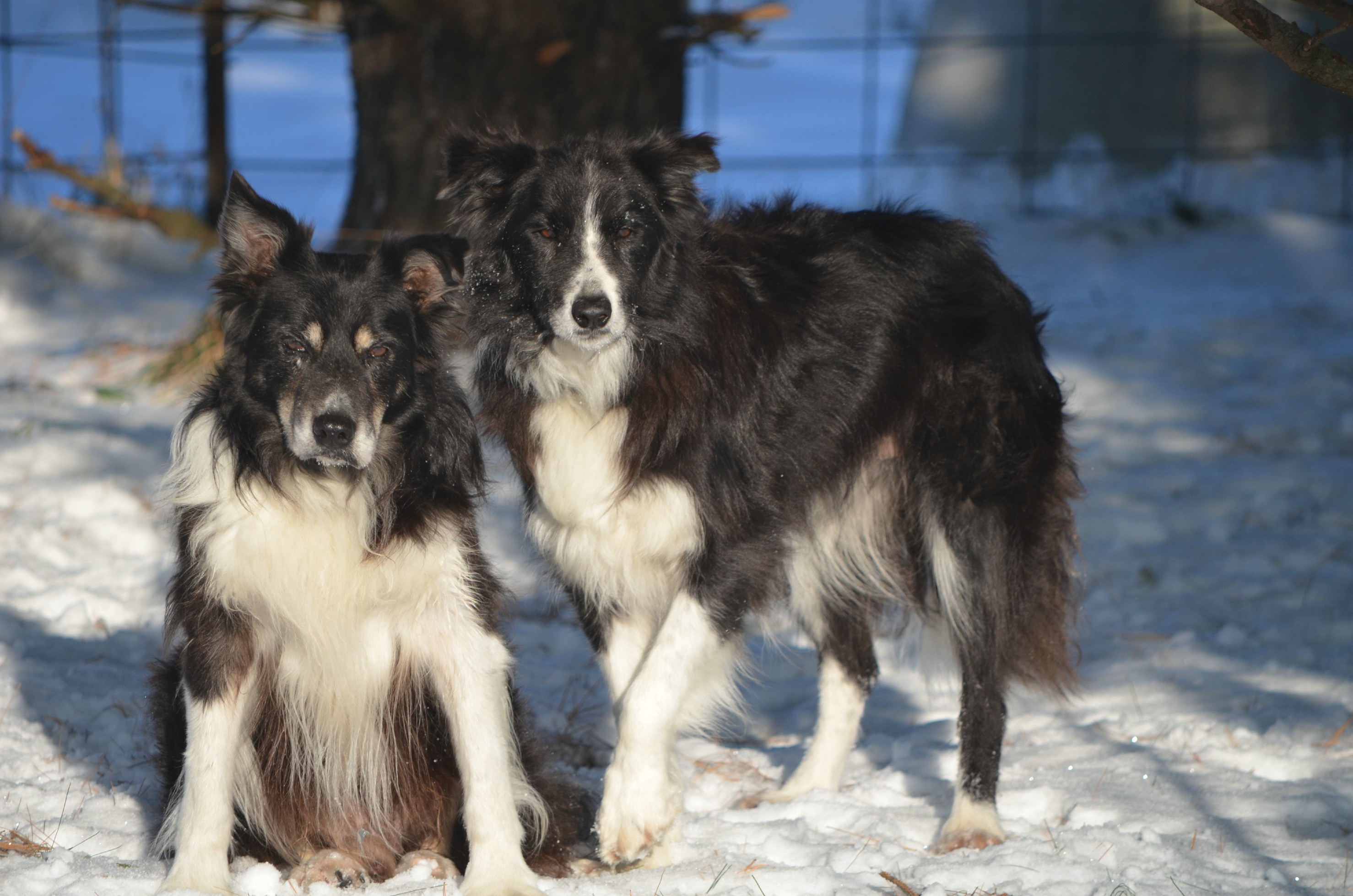 LAD14 yrs & LUKE 13 yrs old Winter 2012

Lad is one of those border collies who lives to work. He has been around the world and worked more sheep than I ever will. He was imported by Alasdair MacRae from Wales and worked sheep in the south, as well as Canada and the Dakotas and was trialed quite a bit running in Open. Lad has taught me so very much and I will be ever grateful. He is the one I go to get the job done - any job, any livestock, any weather, any place. Lads sired his first litter of pups in Feb.2007 and I am enjoying seeing them working. Lad is continuing to teach me even though he is getting older and just a bit slower. Lad will be 11 in Dec of 2009. He has another litter of pups up and coming and I can't wait to see them mature.

Lad is retired but he continues to be in good health and keeps a watchful eye on the young dogs. Every morning I give him an extra pet on the head and tell him what a difference he has made in my life.
Lad turned 14 in 2012, still ever watchful raising the pups as he sees fit. His hearing isn't the best and we use some sign language, his sight seems to be fading just a bit also. He gets around well playing with the other dogs. He makes sure he is heard these days barking more than ever. He sleeps on the couch and gets extra yummy goodies to eat - the benefits of age I tell the younger dogs.


Lad passed away April 2014. I miss him every day. I am forever grateful for all he taught me. I imagine he is heaven giving the shepherds a run for their money.





BLU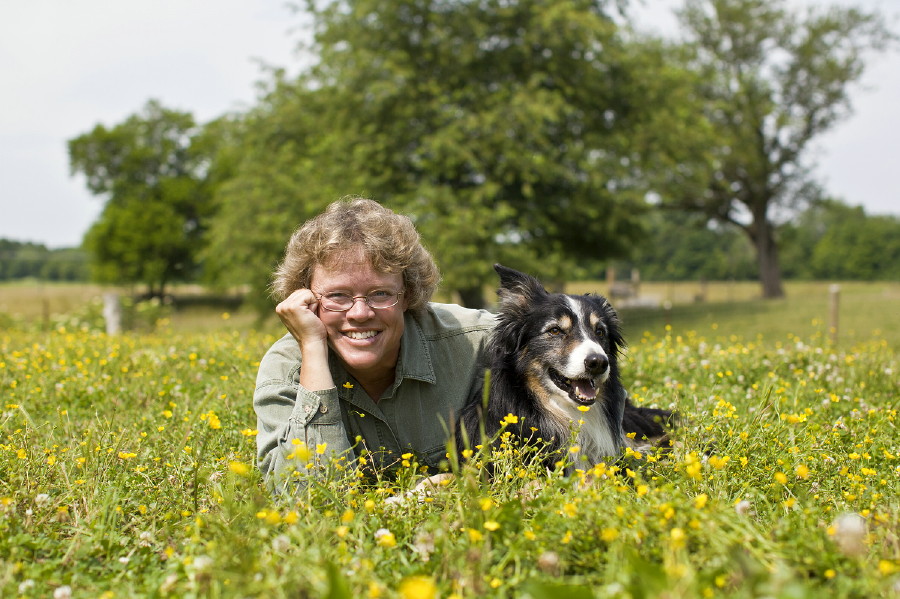 2012 photo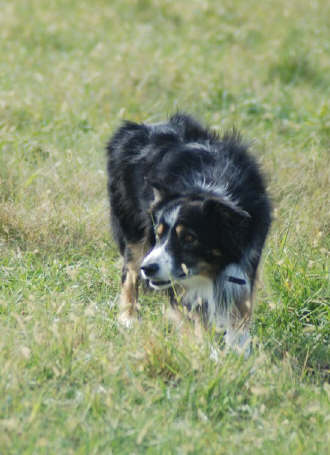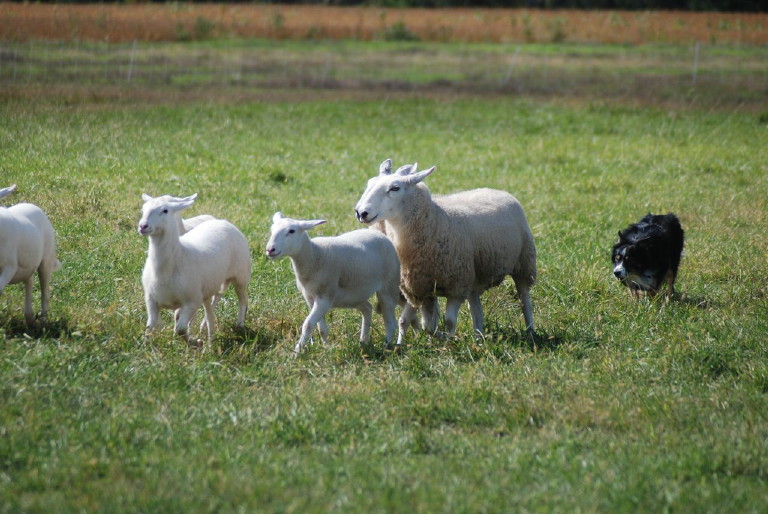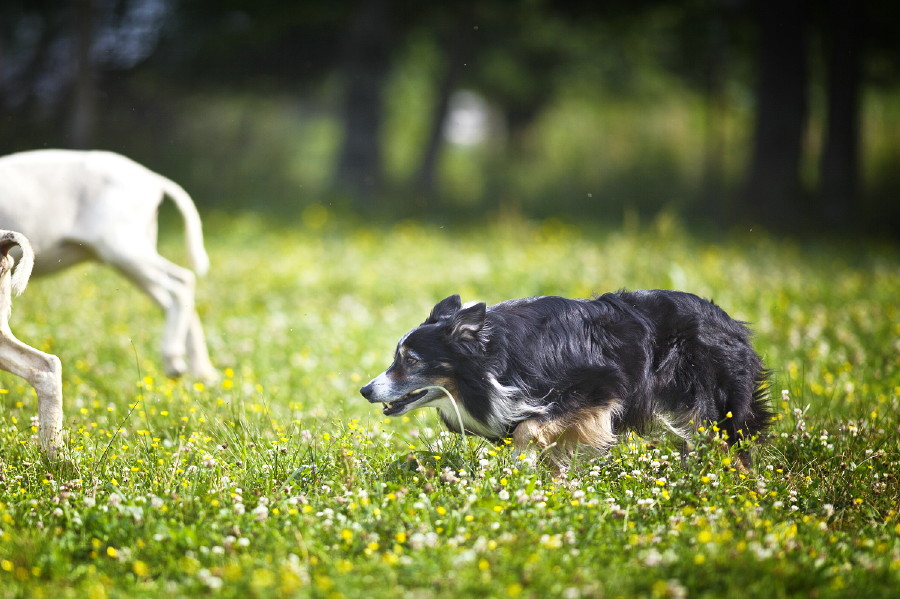 I am pleased to introduce you to the newest member of my crew. Blu is truly a very talented dog. He does everything well. You can't beat him for the everyday work at home and he is also a super trial dog. His outruns are quite nice, he reads his sheep well and there isn't anything he can't move. He may be the best driving dog that I have. Blu is a pleasure to work and always trys to please. I am looking forward to all the things we will do together in the coming years. Blu has done well in the year I have had him and we are planning to begin running in Open during the fall of '09. Blu and I have jumped into running Open and even completed a double lift course. There is always many areas to improve on but I am very pleased with our progress. I of course need the most improvement, Blu always tries to do whatever I ask of him, he has such great heart. Blu has won several High in Trial ribbons in ASCA and AHBA. I ran Blu at the Bluegrass Classic SDT May 2010. Our first run was a bit rough but we managed to get around the course. Our second open run was pretty nice and I was very pleased.
We ended up in the top 1/3 of the 134 open competitors - not bad for our 3rd open trial.
Blu is getting older as we all are. He is by far one of the most enjoyable dogs to work with. This is because he does, every time, give me his all. I think he can read my mind. He goes about everywhere with me. We continue to do some trialing and he is still the dog I go to when I need things done at home and don't want to have to keep an eye on the young dogs to make sure they are doing it right. He has taught me the pleasure and joy of working with a dog that is a true team member.


As 2015 approaches Blu is going on 12 and slowing down some. He continues to be The Dog I go to at home when I need quiet confidence to get tough jobs done. Every time we work together I am thankful he is beside me. He has always seemed to read my mind and now with years working together there are times I rarely say more than two words, one to send him and one to tell him we are done. He is truly an amazing dog.








CS MEG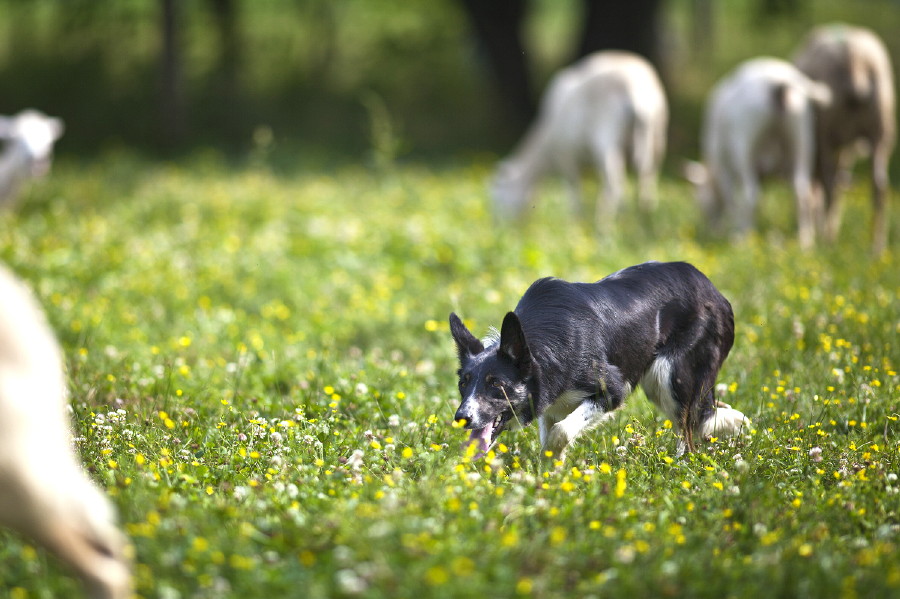 Meg was my pick from Ettrick Gems Oct 2011 litter. What a nice girl she is too. Couldn't ask for a better pup and WOW does she want to work sheep. I was anxious for her to grow some so she would no longer fit through fences and be able to get to sheep. Now at 6 months she has been on sheep a few times and is showing Tons of Potential. She has great style and is super focused.
You can sure see Gem and those genetics coming through. I have to remind myself just how young she is. Meg was started at Bobby's clinic and what a nice girl she is. She is growing into a dog that keeps her head, is learning to read sheep well and has plenty confidence.
Meg is now 15 months old and it seems everything I throw at her she figures out. I have been trying to put her in new situations and she always rises to the occasion, when she needs a bit of help she is willing to take direction from me and we always end with her being successful. I enjoy her a ton!!
Meg is a granddaughter to J Knox's Imp Jeff and Gael and Canadian Lines - Chub and Jiff from D. Gellings and N. Close's CV Joe
Wow it is nearly 2013 and Meg is 2 already. She is a sweet girl and continues learning and trying and forgiving my mistakes.
I am very much looking forward to years of working together
We don't trial much and are able to compete in only a few trials a year. Meg qualified for the 2013 Nursery Finals while competing in her Third Trial! She is my first nursery dog and is home raised and home trained so I am very pleased with her to say the least.

Meg has turned into a great working dog. She works one sheep as well as she works 150. She has a great nature that the sheep respect but are not worried about. Meg is the girl that sheds like a pro and enjoys her work to the fullest, the girl I use to sort pairs up close and the girl to do those big outruns.

GEM Pedigree

Pedigree CS Meg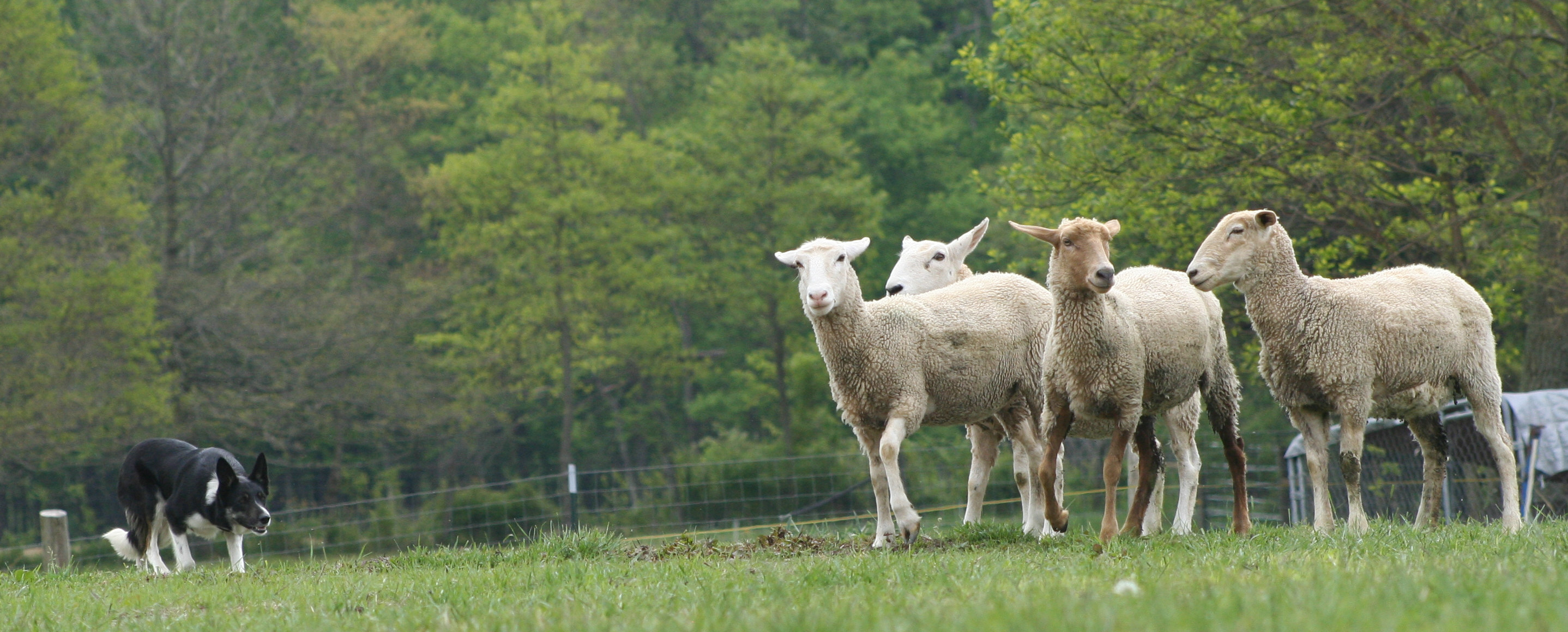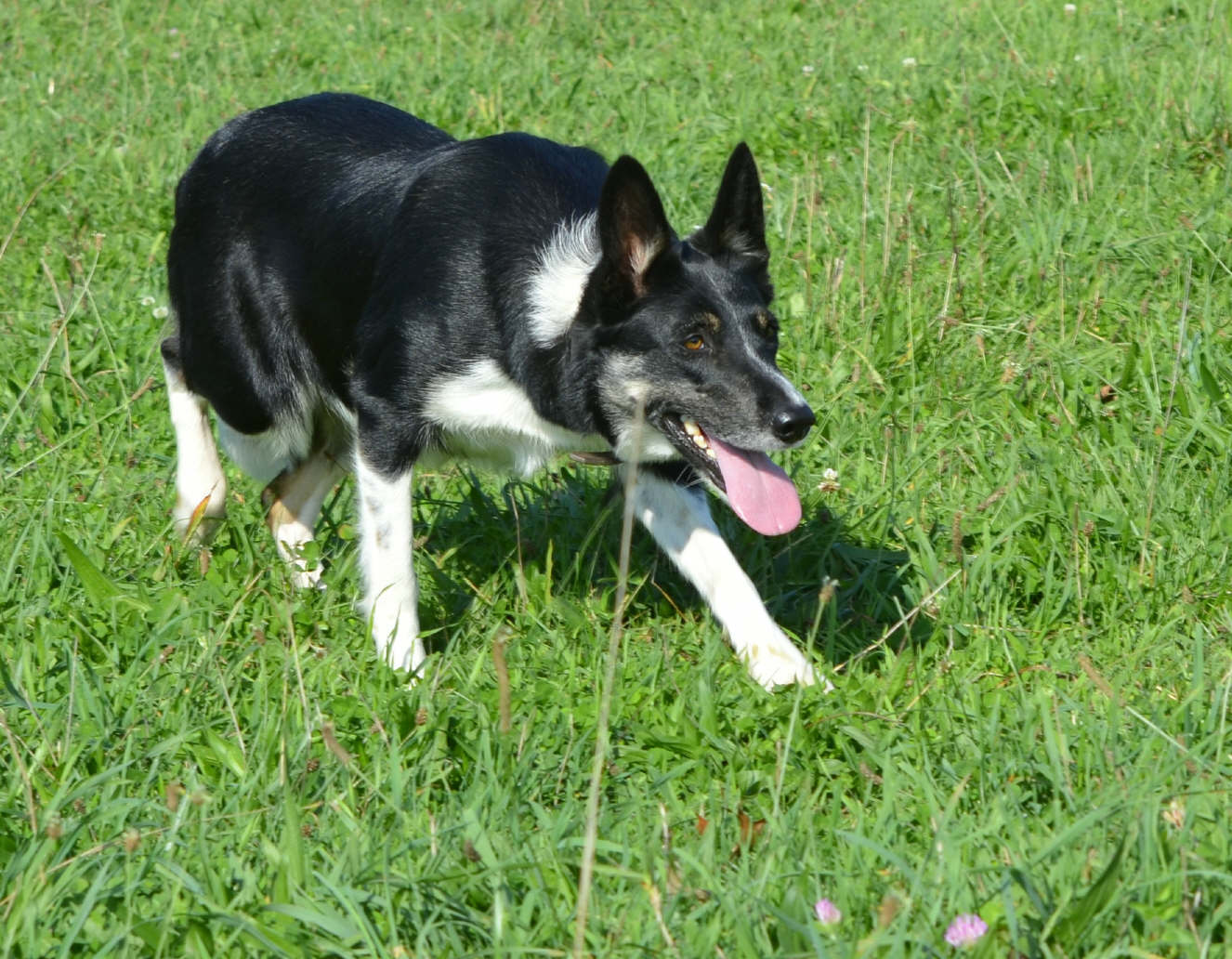 SCOTT


<>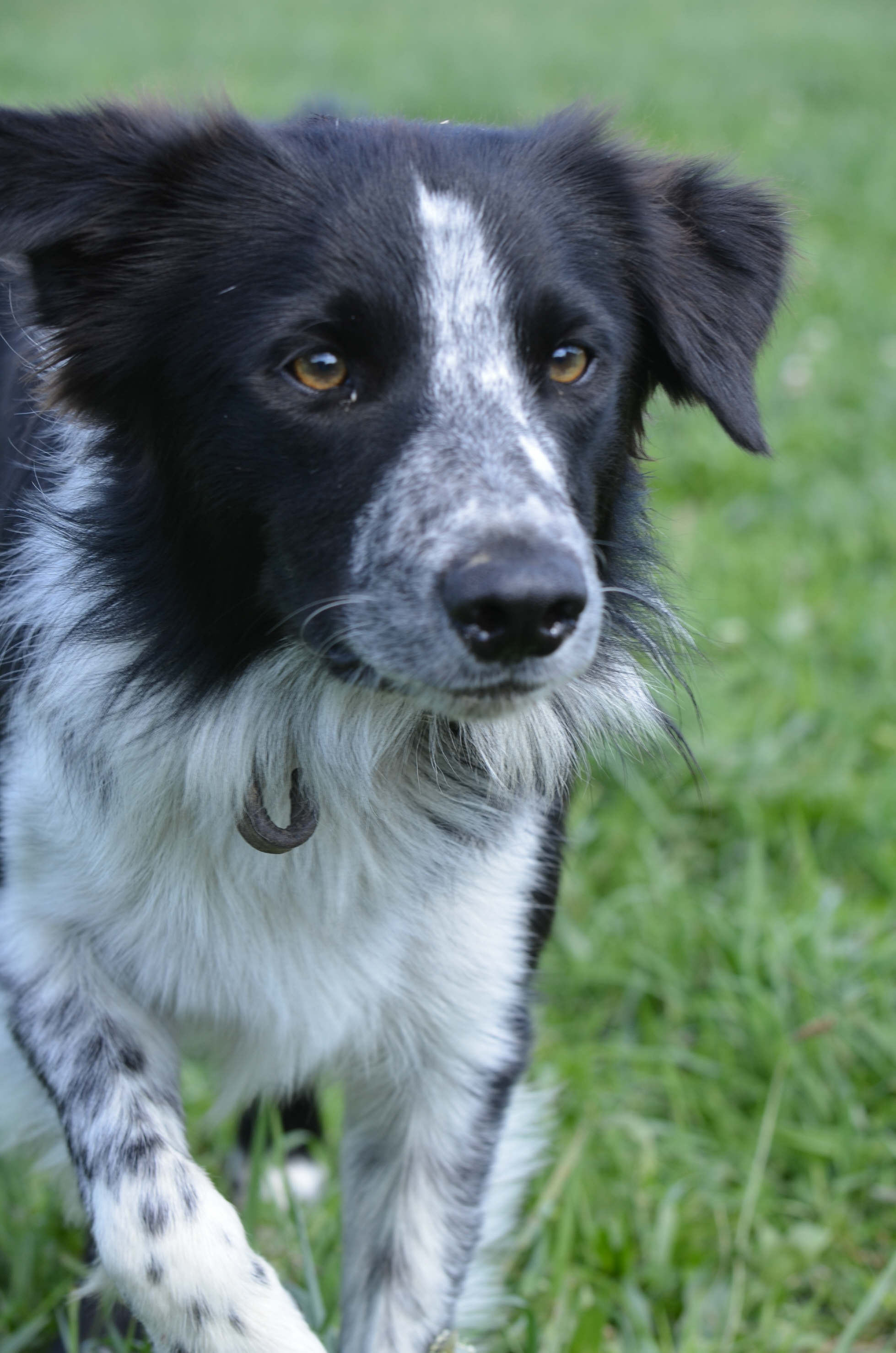 You know how sometimes you are simply in the right place at the right time - that is how Scott came about. Happened to see him work when he was 9 months old and was impressed. He was very natural, nice flanks, nice way with the sheep and kept his head. Just the type of dog I really enjoy. I sure wasn't looking for a dog in fact I had a couple I was selling. Yep Scott came home with me. He just turned a year old the end of January and he is working really well with a great attitude. I love his natural outrun and balance, he is driving nicely with a great forward pace and we are working on inside flanks. Couldn't ask for more from him. On top of all that he has great bloodlines behind him Imp. Penllywn Taff and Imp Tess. Taff is out of Moel Jock and Floss who N. Watkins runs. Tess goes back to nice dogs as well Bobby Dalziel's Gael W.D. Jone's Mac and J. Cropper's #Cap
Scott is one of the most talented dogs I have worked with. He continues to develop his skills as he matures and we are both enjoying the process a bunch. With a bit more maturity Scott will be joining me on the trial field.



Scott's talent continues to show as we enter into 2013. He is such a natural dog, loves working and is happy to hang out in the evenings

with his head on my lap sleeping while I watch tv.

He is developing into my go to guy to get things done at home.

Scott is a litter brother to Scott Glen's Skip who was Reserve Nursery Champion in 2013




Scott at 4 is just as enthusiastic to work now at 4 as he was at 10 mo old. I swear there are days I think he drinks jet fuel. The sheep respect him and he has the power and confidence to back it up. Finesse is not his strong suit but he has years to get there. Right now I am enjoying his speed and love of working.
The dog days of summer 2015 are here so that means afternoons inside and time to reflect. Scott has really stepped up in the last year. He is always willing to work and keeps his great attitude no matter how long we work. He is thinking more all the time and I find these days I rarely have to speak to him. He is gathering the big bunch and will stay behind the slowest lamb to make sure he brings everyone.
I enjoy working with Scott every time we go out and it is the coolest thing watching him mature. He has amazing pressence and his pace is to die for.

ZEVA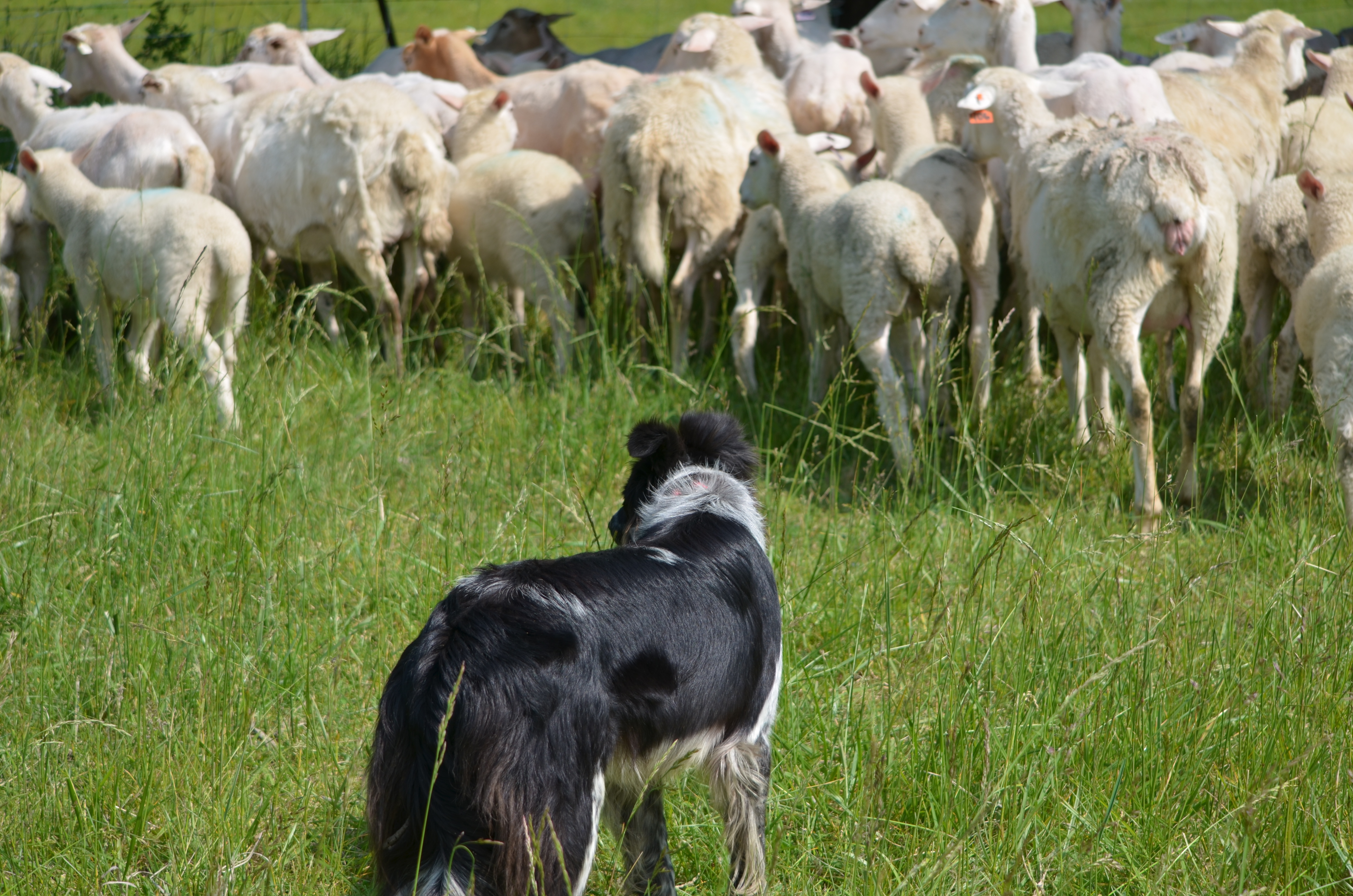 ZEVA is a Griz Scott pup from Dec 2014


Zeva is

the happy go lucky type, always thinking but she is more animated when she works and is begining to settle more. Her outruns are super pretty and she is starting to enjoy driving. She Loves to shed, it seems she just waits to be asked to be called through 20 ewe lambs then enjoys keeping on that pressure. Zeva is now doing chores with me and gathering one group of 30 ewes and lambs when I need them moved.

Zeva is more the happy go lucky type, always thinking but she is more animated when she works and is begining to settle more. Her outruns are super pretty and she is starting to enjoy driving. She Loves to shed, it seems she just waits to be asked to be called through 20 ewe lambs then enjoys keeping on that pressure. Zeva is now doing chores with me and gathering one group of 30 ewes and lambs when I need them moved.
Z has quickly worked her way up to working along side Meg and Scott. Pretty cool to work three dogs at one time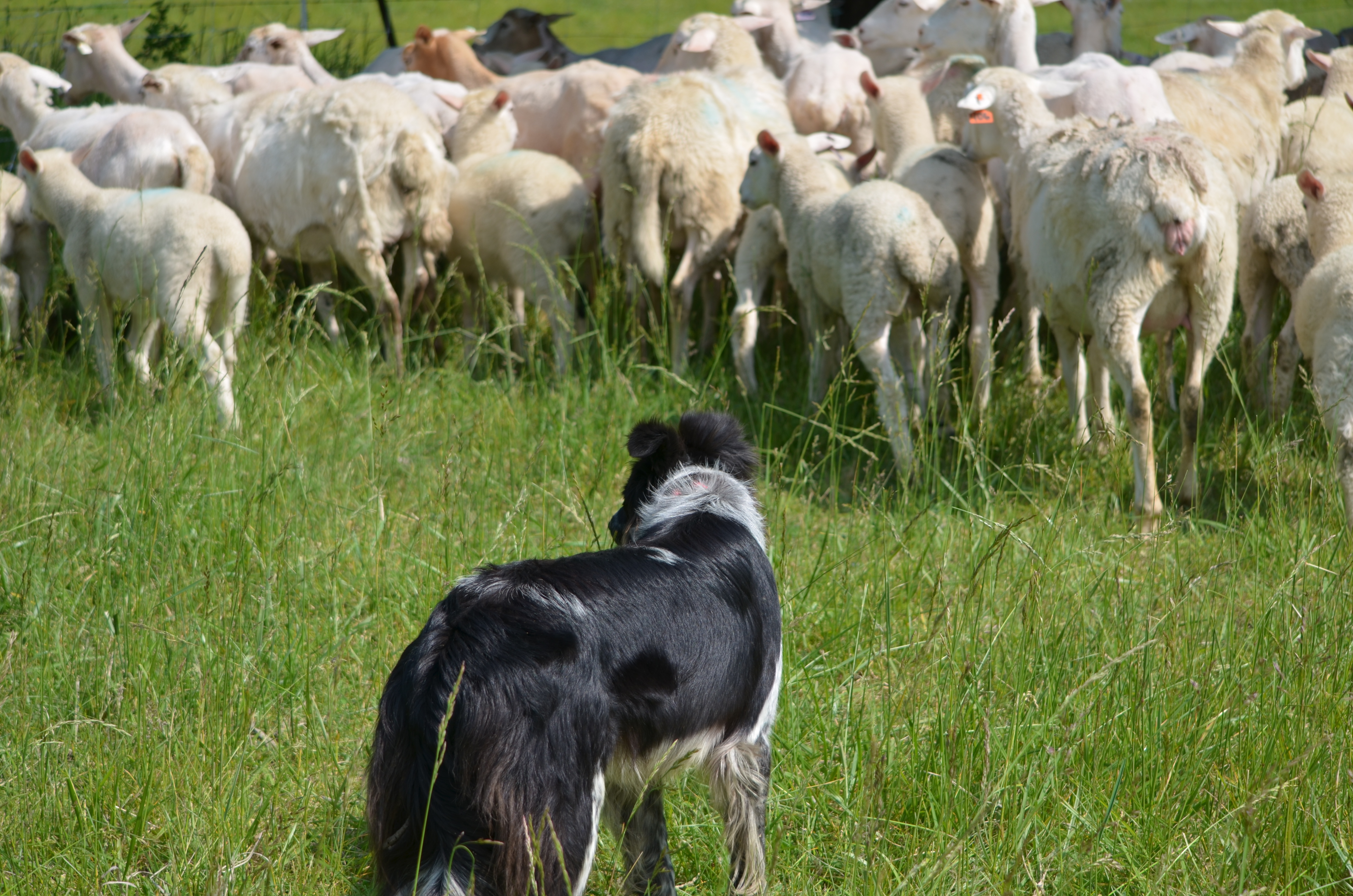 GRIZ
Griz came home with me in May 2012 and after a week of hanging out with me she wanted to start working sheep. We jumped right in, she gathered the flock and we began. She is a natural dog, nice outrun and feel for her sheep and is a team player. Griz is a smooth coat B/W bitch born 1/ 11 out of Vergil Holland's good dogs Brooke and Scott.
They go back to E. Steiman's Imp. Don and Imp. Jill and A. MacRae's Nap. The pedigree and personality is sure there for her to turn into a very nice working dog.
Griz has worked for some Novice handlers at my place being very forgiving of their mistakes. She is winning some hearts
Griz and I entered our first trial after Thanksgiving 2012. She had a nice run, sure reads her sheep well and man oh man likes those straight lines.
We came in Third. I am Thrilled with her first time on the trial field Pedigree for Griz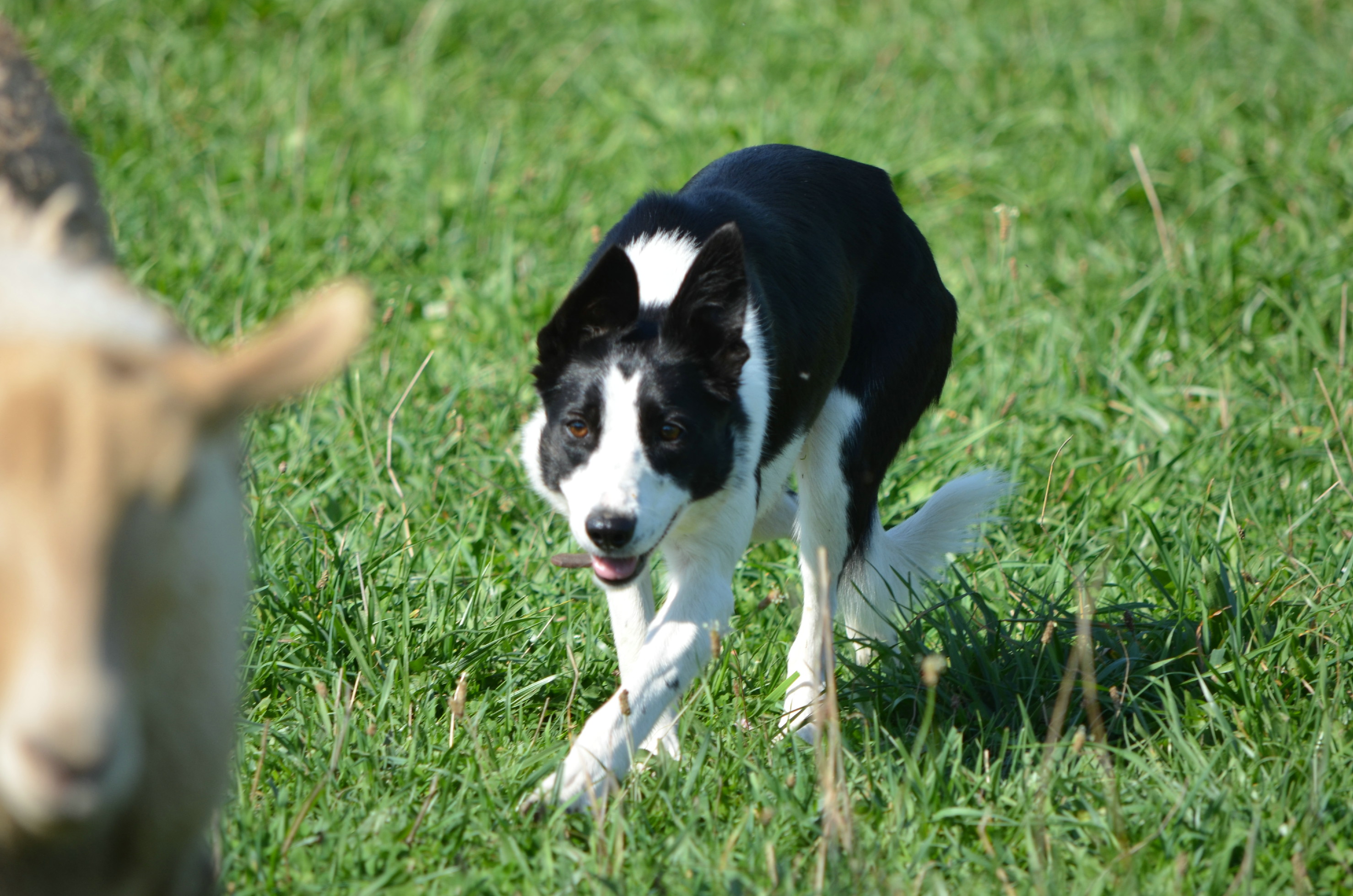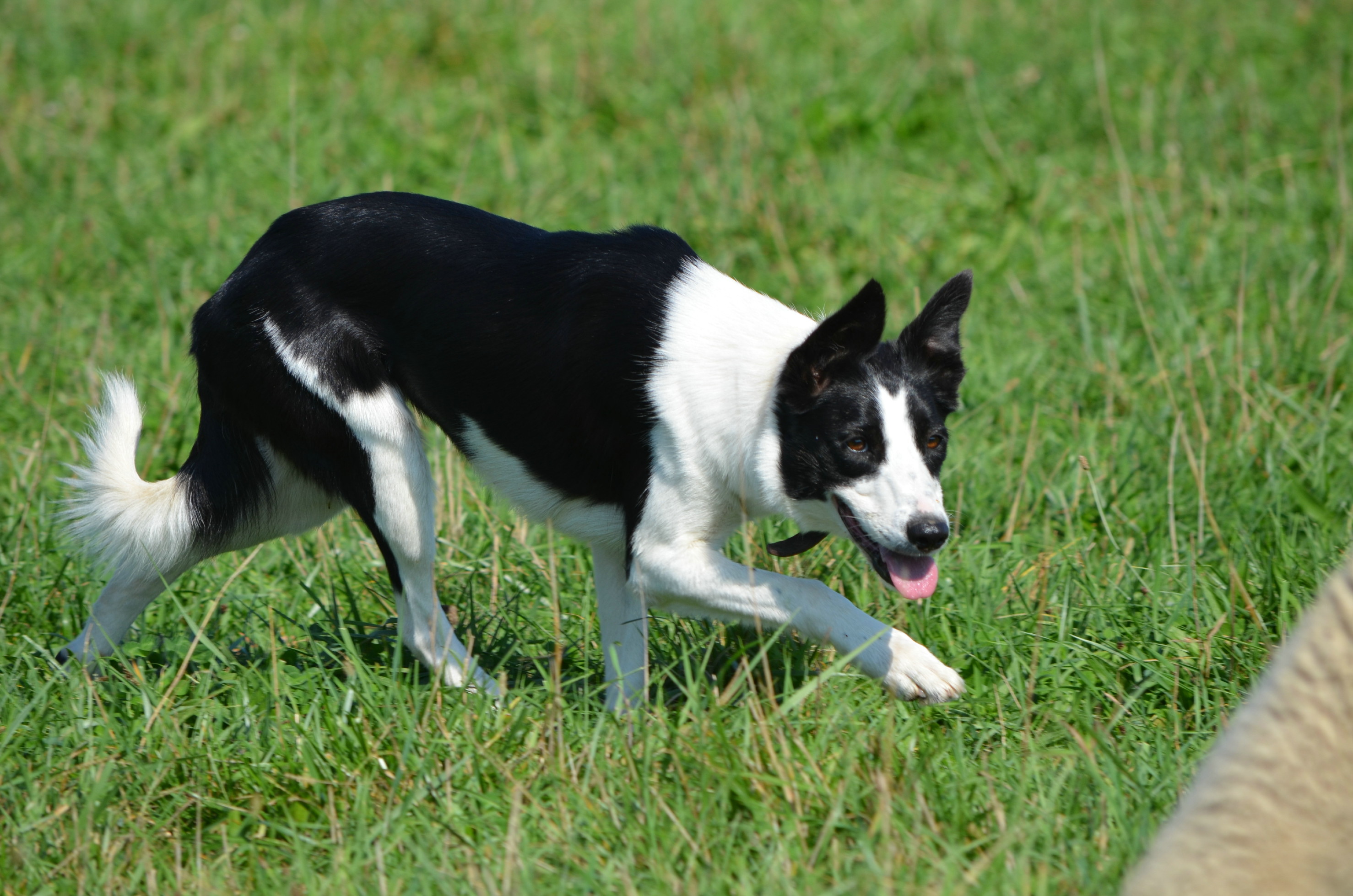 Griz has continued to progress in her training and capabilities. She continues to be the dog I give to those that have never worked a dog so they can get a 'feel' what it is like.
Griz was bred to Scott in the fall of 2014, pups arrived just before Christmas. What a blast that was having a litter around for the holidays. I was amazed how early intincts kicked in on these pups and how natural they are.
Since I have two daughters of Griz I made the decision to part with her.
She is now living in Arizona hanging out with Claudia and napping on her lap every chance she gets. A perfect match for both of Them.






LUKE




Luke is my first Border Collie. He is one of the happiest dogs I know.
He is willing to hang out with me when I am doing anything from fencing to feeding livestock. Luke is hanging in there and still is a handful. Really has always been cut out more to ba a cattle dog than a sheepdog. He will be 13 in 2013, doesn't seem like I have had border collies that long. They have sure changed my life and he started it all. He is retired for the most part but does go with me checking pastures or fixing fence, still enjoys a 4wheeler ride and rides more often these days. Luke is hanging in there at 15.5, he still plays occasionally but most days are spent sleeping on the couch.
Luke passed away Nov 2015, it is difficult to not have here with me. He is the boy that started it all, always willing to be next to me no matter what I was doing. He will always be missed.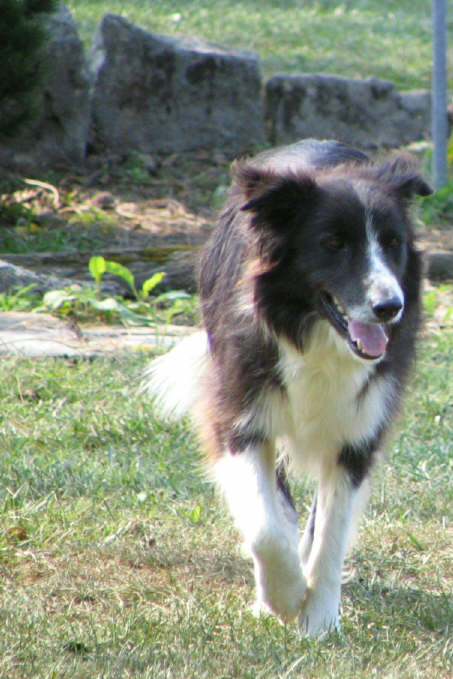 Check out these other Border Collie pages

Up and Coming Border Collies
For Sale Page


Please contact me with any questions. cell 605-842-6321 denice.r@lycos.com