UP and COMING
This is the page for those dogs in training.

With each dog there is a journey, there are new things for me to learn and I am so grateful for all the dogs give back to me.

My hope is that I can assist them on the road to becoming useful working dogs, help them reach their full potential and find the home that will be a great fit for the new handler and each dog. If you are interested in one of these dogs please give me a call or send an email. denice.r@lycos.com
I would enjoy discussing them with you.

Zeva x Marco Litter Feb 2017
Marco is a really nice dog out of WY. He works cattle in KY, assisting with a rotational grazing operation of 200 steers. I started him when he was about 13 months old on sheep. He is one of those dogs that catches on fast, thinks while working and wants to please. He is equally good on cattle and sheep, hard to find these days. He is loaded with talent so excited about this cross.

The first breeding of both these good working dogs produced a
litter of 8 pups, all healthy and doing well. Z had her work cut out for her raising this brood.
She did well and they grew like weeds
All went to working homes from PA, VA, IN, IL
Getting reports that they all have begun to watch and show interest in stock. Should do great - some went to cattle homes, others are in sheep working homes. Time will tell
Looking good for 3 months old.
Now at 9 mo old the pups all the owners report the great progress.
Pups are working stock, all very natural and willing, working cattle and sheep for anyone who will take them to stock. They seem to have a nice mix of Z's ease on stock and Marco's push making very natural pups with nice contact, balance and a dash of come forward confidence.
Couldn't ask for more at this age

Check out the blog for updates on young working dogs
<![if !supportLineBreakNewLine]>
<![endif]>

Repeat breeding of Griz x Scott

Pups born Good Friday March 25, 2016. The pups are at that super cute stage - growing by minute and already noticing sheep.
Lizzy is working well most days in the big pasture on a handful of yearlings. We have worked a small bunch of pairs and she is stepping up to help with simple chores now spring of 2017.
Looking forward to this year and seeing how much she matures.
While the rocket boosters get engaged often Lizzy is developing more gears, thankfully slower ones. She is stopping a bit easier, flanking well and becoming more thoughtful.
Nov 2017 we are out in the big pasture with 30 lambs before they go to market learning about bigger groups of sheep - how to keep them together, tucking in the sides and learning to keep her distance.
"As keen as mustard" as they say, she is fun to work.
 Eternally ready to head to the pasture.<![if !vml]>
<![endif]>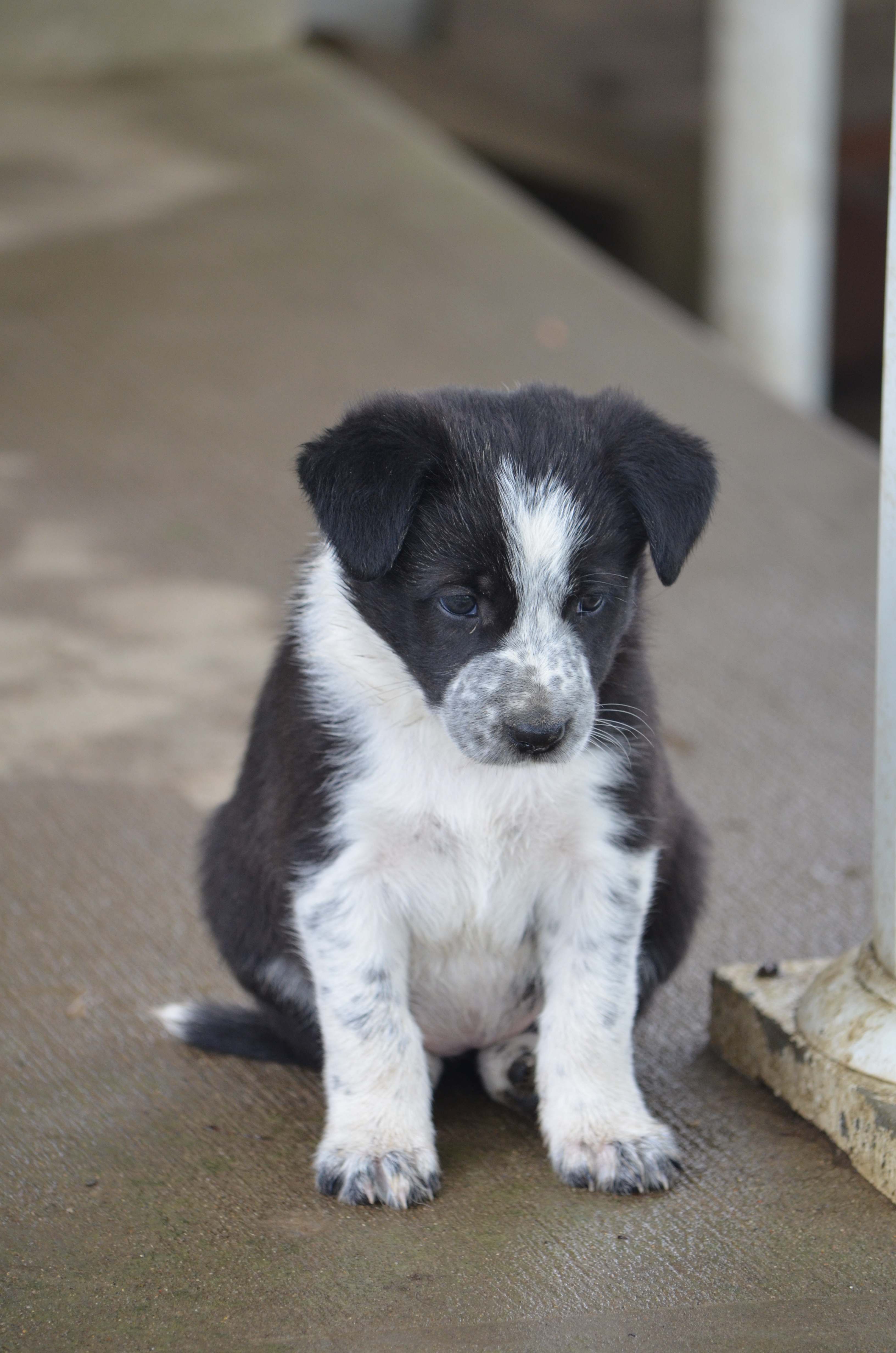 Lizzy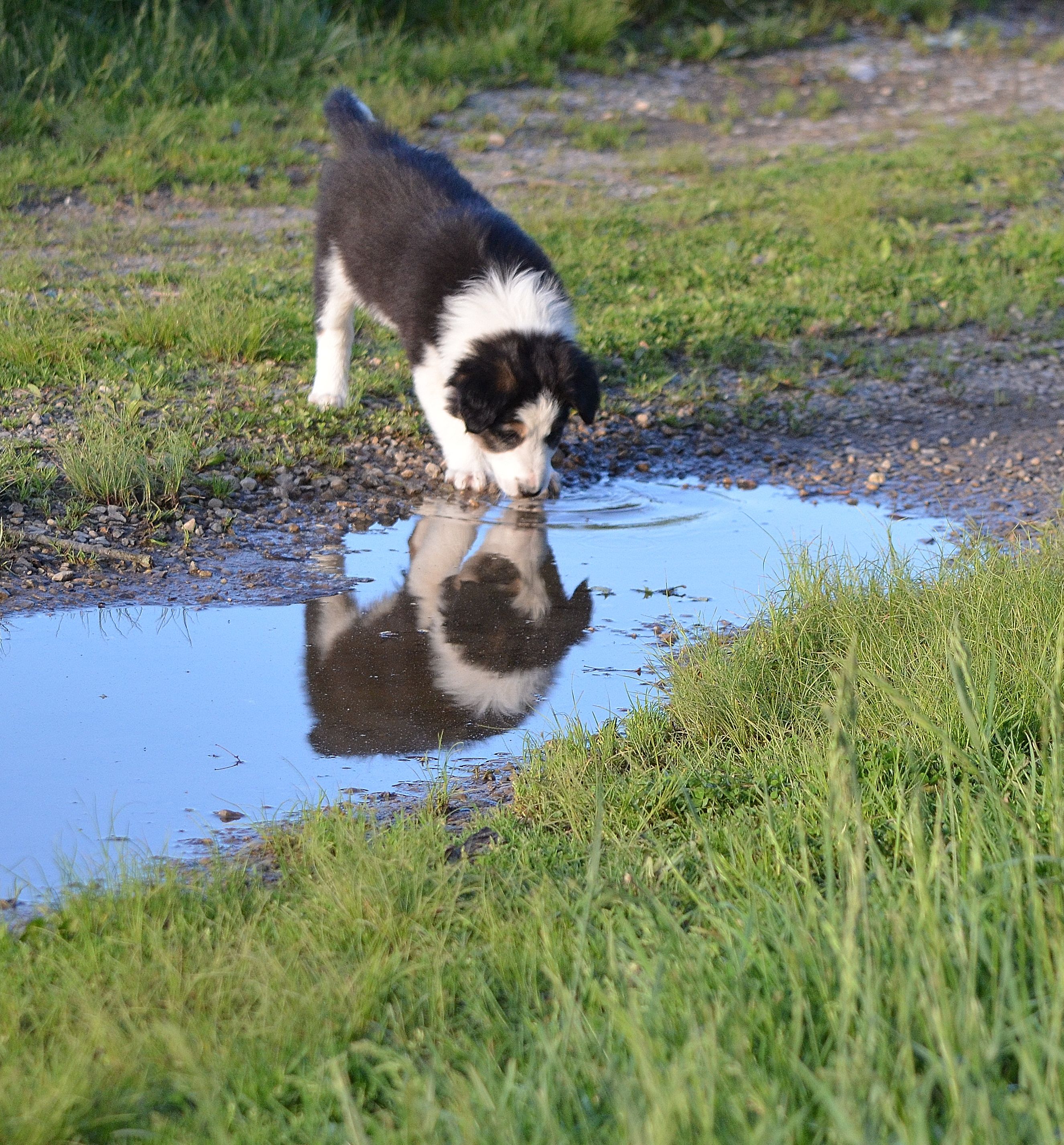 Tyler is working with Linda. Wintering in FL and summers in OH
Thats the life



To see other videos or if you are interested in reserving a pup give a call.

GRIZ SCOTT PUPS 2014
Griz had her first litter of pups Dec 2014. She took care of them and they have moved on to their new homes except Ivy and Zeva who will be staying here for awhile. They are both great pups.
At 3.5 mo old Ivy decided she was a working border collie.
Here is the video https://youtu.be/BkXnmhHAhEQ
I am amazed at the instincts that are in these pups. Zeva waited a few weeks but is incredible on sheep already. Can't wait to see what the fall will bring for these girls and the other pups.
I started two female pups from this litter : Ivy - a short coated tri and Zeva - a med coated mottled girl.
Both girls have been amazing from the first day they began working and continue to amaze me. I could not ask for two more willing working dogs with such great natural ability. It is as if the instinct just oozes out of them, I love they are both super thoughtful when working. The girls both have great feel and pace but work a bit differently and have different areas where they shine.


Ivy is great at scooping sheep out of corners and off fences, she keeps her head like a dog three times her age no matter what is happening. Show her once or twice and she has it. Ivy subscribes to the No Sheep Left Behind club which is great but shedding has been a bit of challenge because of that. Once there is a bit of distance between two groups she is on point enjoying holding that pressure. She is all business and takes everything a bit seriously. IVY is in IDAHO working on a sheep and cattle ranch. She is Deb's right hand girl and from what I hear making quite an impression.







<![if !supportLineBreakNewLine]>
<![endif]>
Thanks

I would be remiss if I didn't acknowledge those folks that have helped me along my journey and continue to do so.
Laura Hicks - Thanks for everything, I consider you a true sister, without you I would not be where I am today.
Jack Knox - Thank you Sir for all your advice and willingness to share your wisdom.
May I soak it all in.
Kevin Evans - Thank you for sharing your passion about the dogs, may we all be as consistent as you.

Bobby Dalziel and Karin Soderberg - What a pleasure it was to spend some time with you both.
Karin, may Gem look as good when I am out with her as she does with you. :-)

To all the clinicians whose clinics I have attended I have learned something from every one of you.
To all those I have visited with at trials that have become friends, Thank you for your support and encouragement.




<![if !supportLineBreakNewLine]>
<![endif]>